Get the 2019 Kia Stinger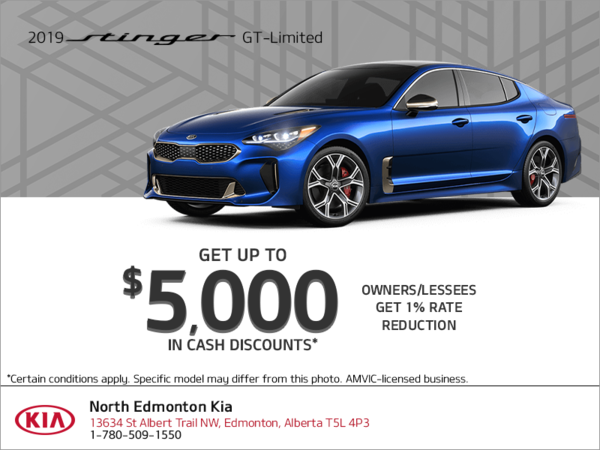 Get a 2019 Kia Stinger and receive up to $5,000 in cash discounts!
Eligible current owners/lessees get a 1% Rate Reduction.
Certain conditions apply. AMVIC-licensed business.
This offer is valid until September 30th, 2019 only!
Offers available on select new 2019/2020 models to qualified retail customers who take delivery between September 4 and 30, 2019. All pricing and payments include delivery/destination fees up to $1,795, $22 AMVIC fee, and $100 A/C charge (where applicable) and excludes licensing, registration, retailer charges (except in Quebec), insurance and taxes. Dealers may sell/lease for less. Dealer order may be required. Offers subject to change and extension without notice. See your Kia dealer for complete details. † † $1,000 Niro Bonus Credit is available on the purchase or lease of a new and unregistered 2019 Niro EX Premium or 2019 Niro SX Touring from an authorized Kia dealer in Canada between September 4 and 30, 2019. $1,000 Niro Bonus Credit is combinable with other retail incentives and will be deducted from the negotiated price before taxes. No cash surrender value and cannot be applied to past transactions. Please see dealer for full details. Φ Financing available on select new models to qualified retail customers on approved credit. Representative financing examples: Finance a 2019 Sorento EX Premium/2020 Sportage LX AWD/2019 Forte EX+ with a selling price of $42,082/$28,712/$24,262 at 0%/0%/0% for 84/48/84 months for a total of 364/208/364 weekly payments of $116/$138/$61 with $0/$0/2,020 down payment and a cost of borrowing of $0. Payment include $1,000/$1,000/$0 credit. Lease offer available on select new models to retail customers on approved credit. Example: New 2020 Soul EX with a selling price of $24,812 leased at 0.99% over 33 months equals 143 weekly payments of $60 with $1,805 down payment and first payment due at lease inception. Offer includes $0 credit. Total lease obligation is $8,645 with an option to purchase at lease end for $14,874. Kilometer limit of 16,000/year with excess km at $0.12/km. † Cash Purchase Price for the new 2019 Niro SX Touring/ 2019 Stinger GT Limited/2019 Sedona SXL+/2019 Sorento SXL/ 2019 Forte EX Limited/2019 Optima SXL Turbo is $34,412/$46,912/$44,782/$45,082/$25,832/$35,662 includes $1,000/$5,000/$5,000/$6,000/$4,000/$5,000 Clearance Bonus cash discount. † † MSRP for models shown: 2019 Forte EX Limited/2019 Sorento SXL Limited/2020 Sportage SX AWD/2019 Sedona SXL+/2020 Soul GT-Line Limited IVT/2019 Niro SX Touring/2019 Stinger GT Limited is $28,065/$49,165/$39,995/$47,865/$29,595/$33,495/$49,995. 1% Rate Reduction is a limited time offer provided on approved credit. Offer available to qualifying Kia customers towards new 2019 Stinger, 2020 Forte, Soul and Sportage models financed/leased and delivered from an authorized Kia dealership in Canada between September 4 and 30, 2019. To qualify, a loyalty customer must be the current owner/lessee of a current Kia vehicle that has been properly registered and licensed for at least the past 90 days. Offer eligibility will be verified and determined by Kia in its discretion. Qualifying loyalty customers will receive a 1% reduction off finance or lease rates currently available. Under no circumstances can rates be reduced to below 0% APR. Offer is transferrable within the same household. Offer can be combined with Kia's pull-ahead program and the Kia Motors Finance lease loyalty program for eligible customers. Limit of one bonus per customer or household. Offer has no cash surrender value and cannot be applied to past transactions. Conditions apply. Offer is subject to change or cancellation without notice. See your participating Kia dealer for details. Apple, the Apple logo, CarPlay and iPhone are trademarks of Apple Inc., registered in the U.S. and other countries. App Store is a service mark of Apple Inc. Google, Google Play, Google Maps and Android Auto are trademarks of Google Inc. Google Maps ©2019 Google. Please note that your vehicle may not be equipped with all features described. This also applies to safety-related systems and functions. None of the features we describe are intended to replace the driver's responsibility to exercise due care while driving and are not a substitute for safe driving practices. Some features may have technological limitations. For additional information regarding the various features, including their limitations and restrictions, please refer to your vehicle's Owner's Manual. The Kia 5­year/100,000­km warranty includes various warranties and roadside assistance. Some restrictions apply. For more information, call us at 1­877­542­2886 or visit kia.ca.
Price Privileges e-cards are only redeemable for fuel discount at participating Esso and Mobil stations in Canada in-store or when onboarded into the Speedpass+ app. Card must be presented at time of payment for the purchase of motor fuels only (excludes hydrogen). Only one Price Privileges card can be used per transaction and cannot be combined with any fuel discount coupons or promotions. Card must be used in combination with a form of payment accepted at participating Esso or Mobil stations in Canada. Card may not be redeemed for cash or credit or used to buy a Gift Card (except where required by law). Imperial Oil is not responsible for replacing the value on this card if it is lost, stolen, destroyed, damaged or used without your consent. Card may be terminated or confiscated at any time, if used illegally or inappropriately. Cents per Litre fuel discount as shown on card face or as described on other promotional materials is limited to a maximum number of litres as described by the promotion. Check your balance online at giftcards.esso.ca or at any participating Esso or Mobil station in Canada. Receipt may also show purchase savings, balance remaining and expiry if applicable. Value remaining on card at any given time shall be based on Imperial Oil records. Other conditions may apply as described on applicable promotion materials available from the promoter where the card was received. Cards are not reloadable at station. Service station return policy applies to purchases made with card. Esso and Price Privileges are trademarks of Imperial Oil Limited. Imperial Oil, licensee. Mobil and Speedpass+ are trademarks of Exxon Mobil Corporation or one of its subsidiaries. Imperial Oil, licensee. Other trademarks shown are property of their respective owners.